As you may know, Marie Rippel, the creator of
All About Spelling
(
AAS
), has recently begun publishing a learn-to-read series, as well - titled, appropriately enough,
All About Reading
(
AAR
). And, in order to house all her wonderful products in one place, she simultaneously launched a new umbrella company,
All About Learning Press
(
AALP
).
In the spring,
AALP
opened a new facility. Then they held an open house at the end of July. And now they have launched the new
All About Learning Press website
! Take a look at the "new dress;" it's really beautiful and extremely user-friendly.
If you had previously bookmarked the old
AAS
website, you will (at least for the time being) be automatically redirected to the new
AALP
site. However, I suggest making a new bookmark to insure easy access in the future.
If you're not currently using
AALP
products, browse the new site and consider whether
AAS
and/or
AAR
might be good fits for your kids.
We have used
AAS
for almost three years now and have been thoroughly pleased. It works equally well for my daughter who is a more "natural speller" and for my girl who struggles, and I love that the program:
truly teaches students how to spell instead of just having them memorize word lists;
uses research-based methods (i.e., the Orton-Gillingham approach) to facilitate learning and retention;
teaches the rules in linguistically-logical and kid-friendly ways;
employs the use of multiple learning pathways (i.e., kinesthetic, auditory, etc.) to help every child succeed;
is easy to use;
is non-consumable, thus making it extremely affordable for even large families.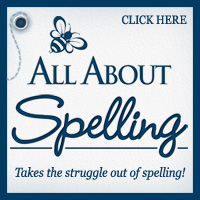 The AAR product line is less than a year old and, thus, was not around when my girls were learning to read...though, if it had been, I'm sure I would have tried it. And, based on our experiences with AAS, I feel confident it would have been extremely effective and that I would have loved it.
In fact, I'm thankful I will have the opportunity to try AAR with my little daycare charge, Anna, this year - and (eventually) with her sister, Leah as well. I'll be quickly reviewing phonics basics with Anna this fall using AAR Pre-Level 1 and will then move into Level 1 with her for the rest of the year - a process about which I'm sure you'll be reading in the coming months.
In the interest of full disclosure, I will state that I am an AALP affiliate - so, if you purchase anything from the site after having gone there through my links, I will receive a commission from the company. However, I want to assure you that I am only an affiliate because I love and trust the products so much.
In fact, you may have noticed that I don't monetize this blog. And I don't actually advertise anything else as an affiliate (though, admittedly, if some of my other favorite products had affiliate programs, I'd probably sign up!). Being an AALP affiliate is a nice perk (and I'm a paid contributing writer for AALP, too), but, truthfully, I would heartily recommend AAS (and, by extension, other AALP products) even if I didn't receive a dime in return.
My commitment with curriculum or other products has always been - and will forever remain - that I will only endorse what I've actually used and find effective...and I will tell the truth where I find shortcomings, too. I'm not a saleslady; I'm just a home-educating mom who likes to help other home educators however I might, including curricular recommendations when appropriate. No resource works for every family, but you might want to see if AALP products could work for you.